----------SUPERNICE GIVEAWAY
----------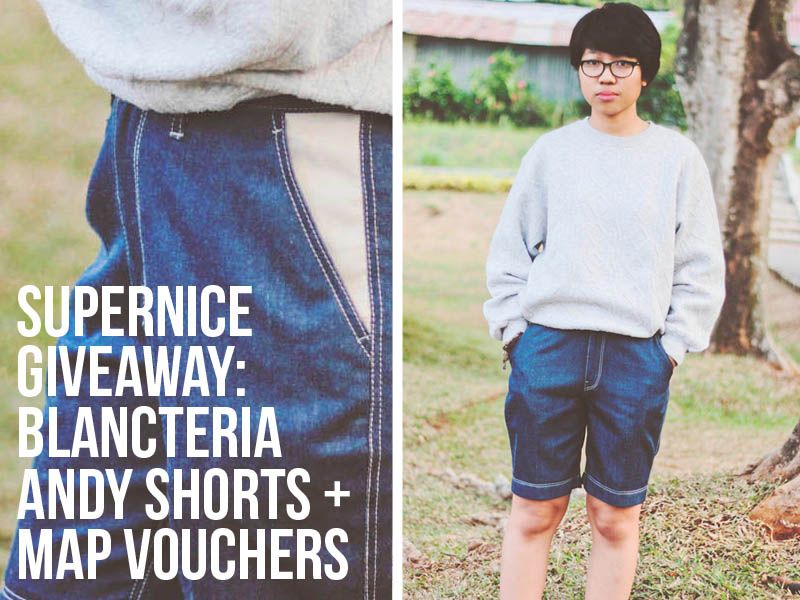 This supercool BLANCTERIA Andy Shorts worth IDR 170.000 / USD 17
MAP voucher worth IDR 300.000 / USD 30
(For those of you who don't know, MAP is a huge lifestyle retailer company in Indonesia, known better as the 'head' of the big names in fashion from ZARA, Bershka, Dorothy Perkins, Mango, Nine West, TOPMAN, TOPSHOP, Pull&Bear, to Adidas, Staccato, and many more)
WHO CAN JOIN:
This giveaway is opened only for residents in Indonesia, respectively.
Very simple. Just follow this 4 easy steps.
3. Reblog this page in your blog. No, i'm not asking you to write down a long movie script or something--all you have to do is copy this post (right from the "SUPERNICE GIVEAWAY". Yes, with the picture if you want) and post it in your own blog. But, if you want to tweak something or give it a little personality, it would be really swell.
4. Put your comments in this post AND also mention @BLANCTERIA and @PutriSoe on Twitter (as a notification) with this format: "I have reblogged this in my blog! [the link of the post]"
This is not a competition--everybody gets the same amount of opportunity. Think of this as a little game that gives awesome prizes. So i will choose the winner by using Random.org, a random number generator. Your comment will be numbered and then the generator will tell me which number is picked. That's the winner.
You can start posting from NOW on and this giveaway will end on October 14th, 2012. I will announce the winner right after that on this blog. And BLANCTERIA will of course announce the winner in their social medias, too.
DISCLAIMER:
One person cannot give more than 1 comment. Even if you do, it won't be numbered. Don't cheat--we're grown-ups, so they say.
------------------------------------------------------------------------------------------------------------
So there you go. C'mon, start posting right away! I'll be sure to check on every post and every comment you give. And once again, thank you for following. I always appreciate each comments and always try to improve this blog (for the sake of your eyes). Good luck!
P.S.:
If you have any suggestions, comments, critiques, or anything regarding this blog, do leave a comment. I always check each of your comments and always take that into account. Thanks before!
-------------------------